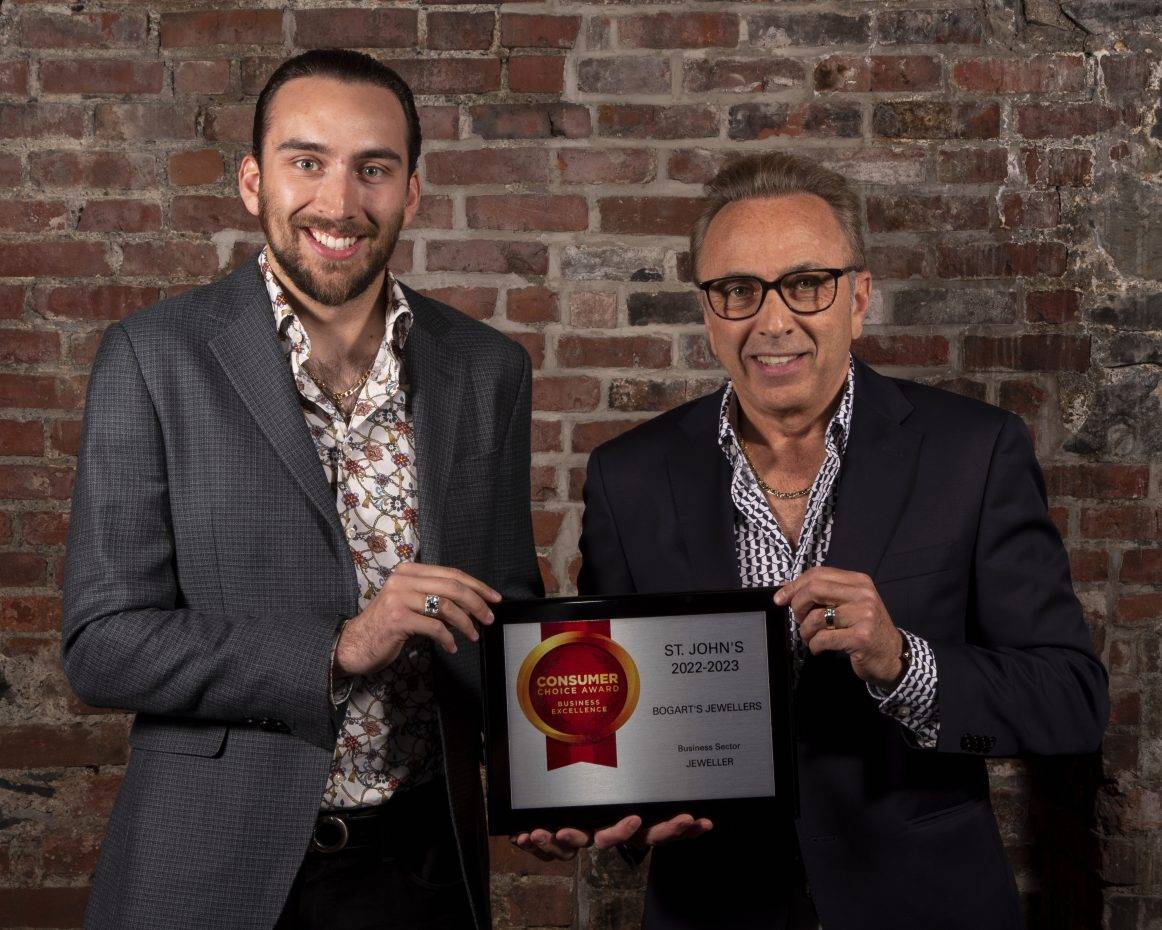 Bogart's Jewellers is the Consumer Choice Award winner in St. John's and Greater Region in the jeweller's category. We know how it feels to be the customer favourite in the region. We've been winning it ten years in a row now!
The Consumer Choice Award is unique for both customers and businesses because of the transparency and credibility of the process. The voting is managed by reputed market research firms in North America.
We're a locally owned and operated jewellery business from Newfoundland and Labrador. Since 1992, Bogart's has been in the business and now has seven locations across the island. We specialize in custom Jewellery and engagement rings. We alsocarry an extensive range of jewellery from some of the most reputed brands in the world including Pandora, Swarovski, Elle, and many more.
We have several goldsmiths, gemologists,diamond experts, and designers on our award-winning staff. Bogart's services include custom jewellery, jewellery appraisals, and jewellery repair. With impeccable service and an astonishing range of products, we've become the primary source for all things jewellery in the region.
After years traveling Newfoundland & Labrador as a watch salesman and Jewellery wholesaler, Richard Rooney founded Bogart's in 1992. Richard's passion for jewellery and his devotion to close relationships with his customers has made the brand a local institution. Richard's expertise has been passed down to his son, A.J., who is now a G.I.A. Graduate Gemologist and is working alongside Richard. Here at Bogart's, we train all our staff members to be dedicated to customer satisfaction and to ensure that our customers get the finest possible service.
Customers can find a comprehensive range of jewellery at Bogart's including engagement jewellery, custom jewellery, watches, and other gifts. We back our engagement rings with a complimentary lifetime warranty for our diamonds with a trade-up policy.
Whether a customer is looking for a 3-carat diamond, Pandora charm, or anything else, they can find it all at Bogart's. An exquisite range coupled with matchless service is how we get voted as the customer favourite in the region.